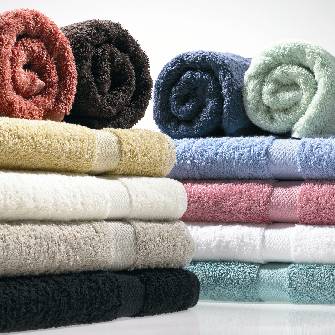 United Textiles Distribution stocks both Domestic and Import Terry Towels. Being a direct importer we are able to assure consistent quality.
Import Quality Includes: Economy - 10 Singles yarn, Premium - 16 Singles 100% Cotton and Blend Yarns, and Ring Spun Products
In stock we have white, beige, and colored stripe towels. We also have both Cam and Dobby Border Ensembles in stock. Solid color Terry selection is also available.
High Quality Domestic Towels in Stock include: Premier, Crown Touch and Rapture
| | | | |
| --- | --- | --- | --- |
| Terry Towels - Imports | Size | Weight | Case Pack |
| Wash Cloth | 12 x 12 | 12 Oz. or 16 Oz. | 100 Dozen |
| Hand Towel | 15 x 25 | 2.75 Lb. | 50 Dozen |
| Hand Towel | 16 x 27 or 16 x 27 Stripe | 2.75 Lb. | 50 Dozen |
| Bath Towel | 20 x 40 | 5 Lb. or 5.5 Lb. | 25 Dozen |
| Bath Towel | 22 x 44 | 5.5 Lb. | 25 Dozen |
| Bath Towel | 24 x 48 | 8.0 Lb. | 20 Dozen |
| Bath Towel | 24 x 50 | 10.0 Lb. | 15 Dozen |
| Bath Mat | 20 x 30 | 7.0 Lb. | 20 Dozen |
| | | | |
| --- | --- | --- | --- |
| Terry Towels - Premium Imports | Size | Weight | Case Pack |
| Wash Cloth | 12 x 12 | 1.0 Lb | 100 Dozen |
| Hand Towel | 16 x 27 | 3.0 Lb | 25 Dozen |
| Bath Towel | 20 x 40 | 5.0 Lb | 25 Dozen |
| Bath Towel | 22 x 44 | 6.0 Lb | 25 Dozen |
| Bath Towel | 24 x 48 | 8.0 Lb | 20 Dozen |
| Bath Towel | 24 x 50 | 10.5 Lb | 10 Dozen |
| | | | |
| --- | --- | --- | --- |
| Ring Spun - Domestic Quality Imports | Size | Weight | Case Pack |
| Bath Towel | 27 x 50 | 14.0 Lb | 5 Dozen |
| Bath Towel | 22 x 24 | 6.25 Lb | 10 Dozen |
| Bath Towel | 24 x 50 | 10.5 Lb | 5 Dozen |
| Hand Towel | 16 x 30 | 4.0 Lb | 10 Dozen |
| Hand Towel | 16 x 27 | 3.0 Lb | 25 Dozen |
| Washcloth | 12 x 12 | 1.0 Lb | 50 Dozen |
| Washcloth | 13 x 13 | 1.5 Lb | 25 Dozen |
| | | | |
| --- | --- | --- | --- |
| Domestic Terry Towels in Raleigh Stock | Size | Weight | Case Pack |
| Wash Cloth | 12 x 12 | 1.0 Oz | 25 Dozen |
| Hand Towel | 16 x 27 | 3.0 Oz | 10 Dozen |
| Bath Towel | 24 x 48 | 8.0 Oz | 5 Dozen |
| Bath Towel | 24 x 50 | 10.5 Oz | 5 Dozen |
| Bath Mat | 20 x 30 | 7.0 Oz | 5 Dozen |
| Premier/Rapture W. Cloth | 13 x 13 | 1.5 Oz | 25 Dozen |
| Premier/Rapture H. Towel | 16 x 30 | 4.25 Oz | 10 Dozen |
| Premier/Rapture B. Towel | 27 x 50 | 14.0 Oz | 5 Dozen |
| **Note: All Above Towels in White | | | |
| Beige Wash Cloth | 12 x12 | 1.0 Oz | 25 Dozen |
| Beige Hand Towel | 16 x 27 | 3.0 Oz | 10 Dozen |
| Beige Bath Towel | 24 x 50 | 10.5 Oz | 5 Dozen |
| Beige Bath Mat | 20 x 30 | 7.0 Oz | 5 Dozen |
**Note: Many Other Sizes, Weights and Colors Available**